[ Cabinet Design & Installation ]
Custom Cabinet Installation in Grand Rapids, MI
At Village Custom Interiors we are leaders in cabinet design services in Grand Rapids, MI and the surrounding area. Cabinets offer a special design element in the home. Your cabinets can be unique and fit your style. While cabinets are primarily used for storage, they can still bring a WOW factor into your home. Each kitchen will have different requirements for height, width, color, and capacity. Having the right cabinets for you will create functional space and add a special element to your home.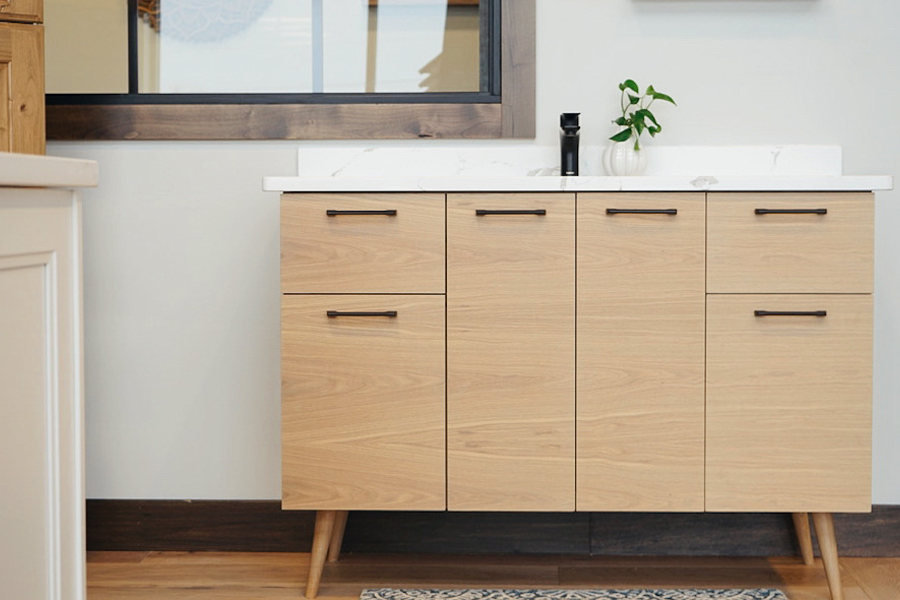 Beautiful Cabinet Design Services in Grand Rapids, MI
As a homeowner when you are getting ready to renovate your kitchen, the cabinets are probably what you start to think about first, above all the other aspects of the kitchen. This is because cabinets are what you see the most. You need them to be not only functional but also aesthetically pleasing. In both kitchens and bathrooms, the cabinets offer style and function, and you want to be sure you have the perfect cabinets for your space. The task of cabinet installation can seem overwhelming, but when our trained, experienced installation teams take over, you won't have to worry about anything. Our teams are equipped to create an ideal space with your chosen products and materials for results you'll enjoy for years to come. In most cases, the task can be finished in just a couple of days for average-sized projects. Having a professional cabinet installation will take the stress out of your home renovation. Our experienced cabinet installers come equipped and prepared with the appropriate tools and materials to get the job done right. In an average sized kitchen or bathroom, the cabinet installation process shouldn't last more than a couple of days, which means you can get your kitchen into a functional position fairly quickly. Knowing the layout of your kitchen or bathroom and ensuring that the measurements have been made accurately are just some of the steps we take to ensure that your new cabinets are installed properly. Putting your trust in us means you will get a high-quality cabinet installation. It is our job to make sure that you have a positive experience, that our team is thorough, and your cabinets are installed in a timely fashion.
Trust the Cabinet Experts
Here at Village Custom Interiors, we are cabinet experts. We have an experienced and knowledgeable team who can assist you in selecting the perfect cabinets to fit your space, style, and budget. We proudly serve our community including Grand Rapids, MI, Jamestown, MI, Byron Center, MI, Grandville, MI, Hudsonville, MI Ada, MI, Holland, MI, Caledonia, MI, Dorr, MI and Zeeland, MI. We would love for you to stop by our store so we can help you select the stunning cabinets of your dreams.
[ Featured ]
Brands & Technologies